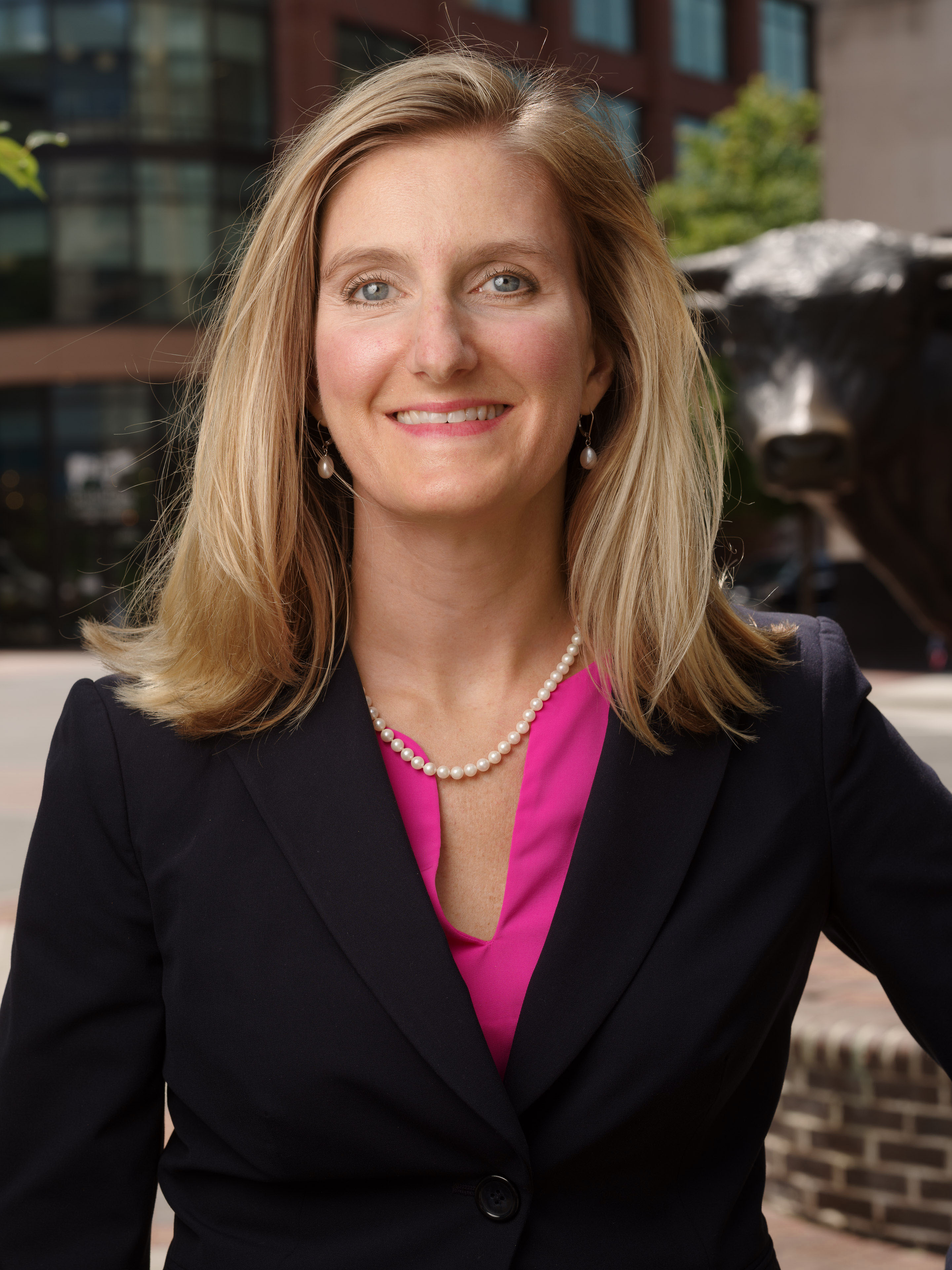 Caroline is an advocate willing to put in the work, time, and individual attention her clients and cases require for success. In her more than twelve years in private practice, she has handled a variety of civil business and commercial matters in North Carolina and South Carolina, with a strong focus on construction law. Caroline has represented owners, contractors, subcontractors, sureties, and design professionals in construction matters including mechanics' lien and bond claims, contract disputes, and large defect claims. Caroline also has extensive experience with first-party subrogation and other tort matters and handles professional licensing issues.
With mediation, arbitration, and trial experience, Caroline has the skills to represent clients for the duration of a dispute. Her litigation experience gives her the perspective needed to help her clients avoid and de-escalate troublesome disputes when possible. In counseling her clients, she emphasizes preventative measures like contract drafting, review, negotiation, proper job site documentation, and other best practices to help her clients succeed in their everyday operations and in the event of a dispute.
Caroline is the managing editor of the North Carolina Construction Law Deskbook 8th Edition and serves on the NC Bar Association Construction Council and Pro Bono Committees. She has also completed North Carolina Civil Collaborative Practice Training. Caroline has presented and led seminars and roundtable discussions for construction professionals on issues including risk management, contract issues, immigration law, construction claims, and legal ethics issues. Caroline grew up in Reidsville, NC and lives in Chapel Hill with her family.
Education
University of North Carolina – Chapel Hill – B.A. 2004, School of Journalism and Mass Communication
Reporter and desk editor at The Daily Tar Heel
University of South Carolina School of Law – J.D. 2007
Articles Editor and Member Editor of the Southeastern Environmental Law Journal
Cooley Law foreign study program including international sales and business law at Monash University in Melbourne, Australia and the University of Canterbury in Christchurch, New Zealand
Bar Associations and Admissions
North Carolina State Bar, Admitted 2008
South Carolina Bar, Admitted 2007
Admitted to practice in the U.S. District Courts for the District of South Carolina and the Eastern and Western Districts of North Carolina
Prior Legal Employment
Associate, Anderson Jones, PLLC, 2009 – 2019
Staff Attorney, State of South Carolina, 2007 – 2009
Law Clerk, Whetstone, Myers, Perkins & Young, LLC, 2005 – 2007
Association Memberships and Community Involvement
Member, North Carolina Bar Association (NCBA) Construction Council and Construction Section
Deskbook Committee Chair and 8th Edition Managing Editor, NCBA Construction Section
Member, NCBA Pro Bono Committee
Member, Durham/Orange Women Attorneys (local chapter of NC Association of Women Attorneys)
Co-Chair, NCBA Young Lawyers Division Law Day and Liberty Bell Committee (2016 – 2018)
Volunteer, Disaster Legal Services and NC Legal Aid (assisted victims of Hurricanes Matthew, Florence, and Michael)
Member, NCBA Young Lawyers Division Law Day and Liberty Bell Committee (2010 – 2016)
Member, North Carolina Civil Collaborative Law Association
Member, North Carolina Masonry Contractors Association, Raleigh Chapter
Volunteer, SAFEChild NC, 2010 – 2013
Publications and Seminars
Managing Construction Risks - May 16, 2019, Jones Keystone-sponsored seminar with the Homebuilders Association of Raleigh – Wake County
Proper Documentation Can Be the Key to Dispute Resolution – January 24, 2019, Roofing Magazine
Ethical Issues in Representing Multiple Clients in Construction Defect Cases and Construction Injury Actions – Mar 8, 2019, North Carolina Advocates for Justice
Managing Construction Risks: Emerging Issues – September 27, 2018, Jones Keystone-sponsored seminar focused on the joint employment doctrine
Discovery 101: Getting the Most out of Basic Discovery Tools – September 9, 2016, North Carolina Bar Association Construction Section
What Contractors Need to Know about E-Verify and IRCA – Mar 28, 2016, Roofing Magazine
North Carolina Lien and Bond Law: Deadlines, Drafting, and New Developments in the Law – Mar 18, 2016, North Carolina Paralegals Association
Single Insurance Policies that Insure All Parties on a Specific Construction Project Offer Benefits and Risks – Mar 30, 2015   Roofing Magazine
Forum-selection Clauses and Their Impact on the Construction Industry – 2014, Roofing Magazine