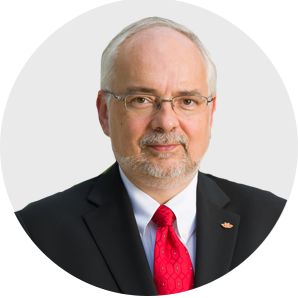 Rob Fields has over thirty years of experience representing businesses. He is a trusted advisory and counsel with significant trial and mediation experience. Rob brings creativity, innovation, practicality, business reality and a keen understanding of the law to his practice. He has handled negotiations, jury trials, appeals and other matters in many different subject areas including business and commercial matters, contracts, shareholder disputes, construction, business torts including defamation and unfair trade practices, class actions, products liability, intellectual property, constitutional law, healthcare, life sciences and others. In the course of his practice, Rob has served on numerous regional and national counsel teams with resulting experience in coordination and organization of complex litigation efforts. He has assembled "virtual firms" bringing together lawyers practicing in different geographical regions and with different, but necessary, expertise and experience to meet client needs.
Rob has represented people and businesses from many different industries and sectors such as professional services, healthcare, banking and financial services, retail, construction, technology, automotive, specialty products, gas equipment, aviation, pharmaceuticals and tobacco, among others. Rob's practice experience spans every region of the United States and he is a member of the bar in North Carolina, South Carolina and Georgia. He has handled or assisted with matters in over twenty states, the District of Columbia and numerous federal courts. Rob received a Bachelors of Arts degree in Economics in 1981 from Davidson College and a Juris Doctorate degree in 1984 from Wake Forest University School of Law. In Martindale Hubbell, he is rated AV. He is listed in Best Lawyers in America.  Rob now concentrates his practice on helping small to mid-size businesses, class actions and mediations as well as a number of community and service focused activities.
Community Activities & Government Experience
North Carolina Department of Transportation: Summer Intern, Office of Secretary, 1979; Engineering Aide (Highway Drilling Crew for Test Borings), 1980.
Highland Presbyterian Church, Winston-Salem, NC: Elder, Deacon, Chair, Board of Deacons, Chair, Finance Committee, Chair, Stewardship Committee.
First Presbyterian Church, Raleigh, NC: Current and former activities including Elder, Deacon, Moderator of Diaconate, Chair of Stewardship, Christian Education, and Youth and Young Adult Committees, Chair, Child Development Center Advisory Commitee, Nominating Committee, President of Foundation, Youth Advisor, High School Sunday School Teacher, Sunday Night Meals Volunteer, Youth Mission Trip Volunteer, Habitat for Humanity House Leader.
Capital Towers, Inc., Board Member, past President.
Curamericas Global, Inc., Board Member and Vice Chair.
Post-Katrina rebuilding efforts in New Orleans, ten trips since 2006; next trip planned for January.
Significant Cases
Grindstaff v. Grindstaff: North Carolina state court bench trial, involuntary dissolution proceeding and valuation of a family closely-held corporation
White Chemical v. Chatham Industries, et. al.: Federal court jury trial of a patent infringement action involving fire retardant for fabric used nationally in automobile seats.
Alford v. Shaw: North Carolina state court bench trial review of special committee business judgment decision to dismiss shareholder derivative action over objection of minority shareholder.
Texgas Co. v. RegO Co.: Florida state court jury trial of allegations that propane valve was defective and caused massive fire which destroyed historic Cuban Club building in Key West, Florida and injured restaurant patron.
State v. Hannon: North Carolina state court jury trial of male teacher's aide for engaging in sex with 15 year old mentally retarded female student.
Bailey v. State of North Carolina: North Carolina state court bench trial of state retiree claims for refunds of unconstitutional taxes on retirement benefits.
Pepper v. Lancaster Homes, Inc., et. al.: North Carolina state court jury trial of homeowner's claims against general contractor, subcontractors and materials suppliers for water damage including claims for alleged defects in EIFS exterior siding.
Sto v. Lancaster Homes, Inc.: North Carolina federal court jury trial of manufacturer's claims by assignment from homeowners against general contractor for water damage.
Bon Secours St. Francis Hospital v. Sto Corp.: South Carolina state court trial of commercial construction claims including claims for water damage.
LeCann v. Cobham: North Carolina Business Court trial of derivative claims on behalf of multiple closely held dental practices including claims for dissolution, appointment of a receiver, constructive fraud and punitive damages.
National representation in class action, multi-district and multi-forum litigation against manufacturers of synthetic stucco including service as liaison counsel in Ruff, et. al. v. Parex, et. al. class litigation before the North Carolina Business Court.
National Counsel defending fire and explosion lawsuits involving propane equipment, and defending use of Delaware Safe Harbor provisions to properly allocate assets to potential products liability tail claimants including work on significant cases litigated in the courts of Arizona, New Jersey, Florida, Missouri, Alaska, Delaware, Illinois and Kansas.
North Carolina state counsel in multi-district pedicle screw litigation.
North Carolina state counsel in multi-district PPA litigation.
Defense of suits involving BlackHawk helicopters.
Representation of bank in obtaining injunctive relief against mass tort plaintiffs and co-defendants based upon Bankruptcy Act and judgment reduction provision in settlement agreement arising out of Hamlet, North Carolina chicken plant fire.
Representation relating to expert accounting and economic analysis witnesses in litigation arising out of acquisition of one of the world's largest mobile home dealerships.
Class action representation of governmental retirees in obtaining refunds in excess of one half billion dollars of unconstitutional and discriminatory taxes collected by the State of North Carolina.
Representation of life insurance conglomerate parent corporation in landmark litigation establishing parameters of business judgment rule and use of special litigation committees to address shareholder derivative claims.
Representation relating to economic analysis and modeling in antitrust litigation.
Defense of copyright litigation about computer aided design software brought based upon a "look, touch, feel" theory.
Prosecution of defamation claims on behalf of employee fired because when her supervisor's wife alleged an affair and insisted that her estranged husband "fix it".
Structuring and negotiating numerous sales or restructuring of membership interests in limited liability companies and other closely held business entities including companies providing specialized support services to marketing and legal firms, printing services, retail sales of beer, wine, alcohol and food, and construction services, among others.
Prosecution of class actions for unfair competition and breach of duty claims against hospital and intermediary provider participants in managed care plans.
Representation of real estate investor in litigation and negotiations regarding troubled and restricted assets
Actions to collect judgments from recalcitrant judgment debtors through supplemental proceedings and other available proceedings
Representation of various interests in Adversary Proceedings in the United States Bankruptcy Courts
Representation in obtaining substantial judgment including punitive damages against international con man